When your garage requires an attractive and solid roller door that is also easy on your budget, Roll-R-Doors have the perfect solution.
Read More
Roll-R-Doors provides a range of Insulated Doors - the perfect solution if you use your garage for more than the car.
Read More
We know that your commercial garage door can take a beating so we build quality, tough doors to withstand daily wear and tear.
Read More
Welcome to Roll-R-Doors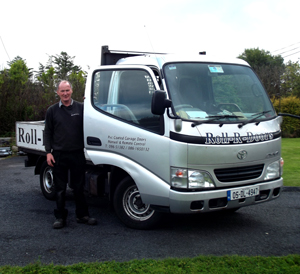 Roll-R-Doors offer a full range of Domestic and Industrial Garage Doors and Accessories. Specialising in both replacement and removal of old doors with new garage doors and installation of new garage doors, Give Roll-R-Doors a call on 086 165 0132 to see what we can do for your projects needs.
The company mainly serves customers in the Connacht area however jobs further afield are always considered. Our company has continued to expand and provide an extensive range of garage doors backed up by excellent sales, service and installation throughout Connaught.
We strive for perfection in every installation. We provide all our customers with free no obligation quotations. For Roll-R-Doors, no job is too big or too small! Have a look through our website for more information.